Relevant and engaging education is one of the many reasons professionals choose to attend the AFWA's Women Who Count National Conference. We are currently accepting speaker applications for the 2019 Conference to be held October 21-23 at the Wyndham Bonnet Creek, Orlando, Florida.
AFWA is registered with the National Association of State Board of Accountancy (NASBA) as a sponsor of continuing professional education (CPE). In order to create a well-rounded event, we will include both technical and non-technical presentations, as defined by NASBA. For a complete listing of NASBA Fields of Study and related topics, download the Fields of Study Guide.
We are still accepting submissions for breakout sessions, specifically on industry technical topics – through January 25 . Please email speakers@afwa.org
Following submission, all applications will be viewed by a Programming Committee of AFWA Volunteers. Decisions regarding speakers will be made by February 1, 2019
As an AFWA National Conference Speaker, you will receive the following benefits:
Reduced full and day pass conference registration rates, providing admission to all educational sessions, meals and exhibitors
Recognition at the conference as a presenter
Links from the conference mobile app to your social media and websites (if links are provided)
Inclusion of speaker information in conference promotions and marketing, including social media blasts promoting your presentation
Opportunity to network with attendees and exhibitors from all over the country in person and via the conference mobile app
Opportunity to provide a 600-800 word article for the AFWA blog to introduce the topic of your presentation
Space within presentation room to provide materials or publications for purchase
AFWA is unable to cover expenses or honorarium for breakout session speakers.
If you do have a publication or book for purchase, you are responsible for those sales. AFWA does not provide sales support for these sessions.
To comply with NASBA requirements, all sessions will be either 60 or 110 minutes in length. The three day event will include a mix of plenary and breakout sessions. During breakouts, three sessions will run concurrently – typically with two technical and one professional development.
Pre-conference sessions will be held on October 21 with an emphasis on professional and chapter development.
Sessions are scheduled to provide the best possible flow and balance of the varying topics offered. Once all selected speakers have accepted their invitation to speak, AFWA will begin scheduling speakers based on topic and speaker availability.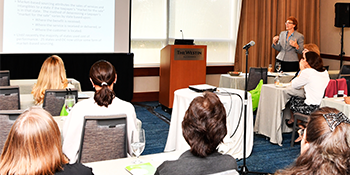 Regulatory or Behavioral Ethics

Software and Applications