RELATIONSHIPS TO LAST A LIFETIME
From aspiring entry-level, to seasoned professional, to deserving retiree, AFWA is proud to develop and support women in accounting and finance throughout their careers. We want to give you the opportunity to express the same commitment to AFWA that we have made to you – by becoming a lifetime member.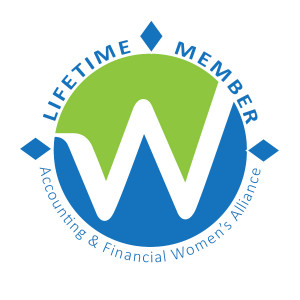 This one time promotion is available to 100 members only! Only a few spots remain – scroll down to meet our lifetime members.
Download the Lifetime Member Application to get started!
Recognition: Lifetime Member lapel pin, digital badge (for use on website, email signature, or LinkedIn profile), printed certificate, mention in the AFWA Impact Report.
PAYMENT DETAILS
$1,200 Lifetime National Membership
Payment may be made in total, three installments, or six installments.
Does your employer pay your membership dues? Contact AFWA@AFWA.org for special arrangements.
No reimbursements on Lifetime Membership. Available for current AFWA members only. Lifetime membership is recognized as a National membership only. Member will still be responsible for annual Chapter dues. AFWA National Membership will remain active until terminated by the member. Payment of lifetime membership will not affect your annual renewal date. Chapter dues will be paid on an annual basis on current renewal membership date. Member will still be recognized as Regular, Affiliate, Associate, or Retired. Any change to membership type should be made during annual renewal.
Meet Our Lifetime Members
Alanna Abreu (Syracuse, NY)
Susan Adams, CPA, CGMA (Dallas, TX)
Alison Aldrich, MBA (Placentia, CA)
Cathy Allen (Billings, MT)
Diane Allison, CPA, CGFO (Prarieville, LA)
Cornelia Alsheimer (Santa Barbara, CA)
Sylvia Ayers, CPA, CGMA, CIA  (Huntsville, AL)
Dessima Barnwell (Fulton, NY)
Maria Beechan (Orange, CA)
Anat Borodyansky, CPA (Dallas, TX)
Berranthia Brown (Mableton, GA)
Jeanette Cambron (Goleta, CA)
Mary Lou Carver (Anderson, IN)
Tara Chambers-Camp (Ooltewah, TN)
Annette Christensen, CPA, CIA, CISA  (Los Angeles, CA)
Sue Christensen, CPA (Milwaukee, WI)
Wendi Christian, CPA, CGMA, CISA, CITP (Groves, TX)
Shannon Comstock (Dallas, TX)
Mary-Claire Corcoran, CPA (Glenside, PA)
Barbara Covington (Fort Walton Beach, FL)
Stacey Craig, CPA (Cumming, GA)
Kristin Culliton, CPA, CGMA (Wichita, KS)
Luzmila Culpepper (Anaheim, CA)
Ann Deegan, CPA (Billings, MT)
Darcelle Dixon-Hunt (Playa Del Rey, CA)
Carrie Dostal, CPA (West Des Moines, IA)
Cindy Dudden, CPA, CGMA (Arvada, CO)
Susan Durr, CPA (Springfield, MO)
Dana Freeland (Kent, WA)
Andrea Garcia (Phoenix, AZ)
Tyna Gaylor, CPA, CMA (Fairfax Station, VA)
Virginia Geiger (Mountain View, CA)
Kathleen (Kay) Gotshall, CPA (Glen Allen, VA)
Trisha Grosch (Newton, KS)
Karen Gunther (Lowell, MA)
Wendi Hall, CPA (Brookfield, WI)
Linda Harris, CPA (Red Lodge, MT)
Karyn Hartke, CPA (Yulee, FL)
Angela Hester (Chattanooga, TN)
Lori Kelley, CPA (Destin, FL)
Melody King, CPA, CGMA (Richmond, VA)
Gale Kreitzberg, CPA (Billings, MT)
Christie Lininger (Billings, MT)
Kimberly Lyons, CPA (Dallas, TX)
Helen Maleady, CPA (New Market, MD)
Laura Mangan, CPA, CMA (Gilbert, AZ)
Vicki May (Phoenix, AZ)
Tassie Medlin, CMA (Bothell, WA)
Renee Melville (BUFFALO GROVE, IL)
Debbie Michael, CPA (Billings, MT)
Monika Miles, CPA (San Jose, CA)
Vivian Moller, CPA (Milwaukee, WI)
Danielle Mowery, CPA (Goodyear, AZ)
Emily Nave, CPA (Omaha, NE)
Melanie Norton, CPA (Katy, TX)
Christi Olsen, CPA (Omaha, NE)
Sara Page, CPA (Richmond, VA)
Lisa Palmersheim (Ogden, IA)
Dianna Patton, CPA, CFP (Glen Allen, VA)
Jessica Perkins (Scottsdale, AZ)
Marie Ramkey, CPA (Richmond, VA)
Renee Richards, CPA (Billings, MT)
Carolyn Richie, CPA (Hixson, TN)
Stephanie Roscoe (Nevada, IA)
Morgen Rose (Signal Mtn, TN)
Deborah Rosengarten, CPA (San Jose, CA)
Melissa Sager (Kennesaw, GA)
Kathryn Schrader, CMA (Knoxville, TN)
Stephanie Searcy (Atlanta, GA)
Vicki Short, CPA (House Springs, MO)
Kathryn Southard (Goleta, CA)
Grace Staten (LaJolla, CA)
Penelle Strum (Altoona, IA)
Ingrid Swenson, CPA (San Mateo, CA)
Brenda Swiney, CPA, CMA (San Jose, CA)
Joann Tucker, CPA (Des Moines, IA)
Michelle Venus (Dallas, TX)
Anna Von Straussenburg, CPA (Mesa, AZ)
Bambi Weber, CPA (Queen Creek, AZ)
Joan Weishaupl, CPA (Denver, CO)
Pamela Wenner, EA (Wayne, PA)
Shelby Williams (Chandler, AZ)
YOUR NAME HERE!