RELATIONSHIPS TO LAST A LIFETIME
From aspiring entry-level, to seasoned professional, to deserving retiree, AFWA is proud to develop and support women in accounting and finance throughout their careers. We want to give you the opportunity to express the same commitment to AFWA that we have made to you – by becoming a lifetime member.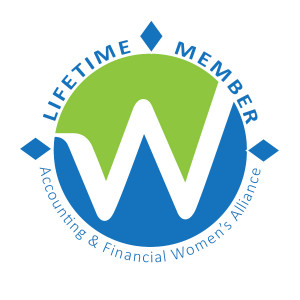 This one time promotion is available to 100 members only!
Download the Lifetime Member Application to get started!
Recognition: Lifetime Member lapel pin, digital badge (for use on website, email signature, or LinkedIn profile), printed certificate, mention in the AFWA Impact Report.
PAYMENT DETAILS
$1,200 Lifetime National Membership
Payment may be made in total, three installments, or six installments.
Does your employer pay your membership dues? Contact cindy.stanley@afwa.org for special arrangements.
No reimbursements on Lifetime Membership.
Available for current AFWA members only.
Lifetime membership is recognized as a National membership only. Member will still be responsible for annual Chapter dues. AFWA National Membership will remain active until terminated by the member.
Payment of lifetime membership will not affect your annual renewal date. Chapter dues will be paid on an annual basis on current renewal membership date.
Member will still be recognized as Regular, Affiliate, Associate, or Retired. Any change to membership type should be made during annual renewal.